The mountains are simply there because you want to be on the top. The Himalayas are no exception. The peaks stand defiantly challenging you to conquer the heights. What better way to enjoy the mountains than taking long treks and scaling up the peaks.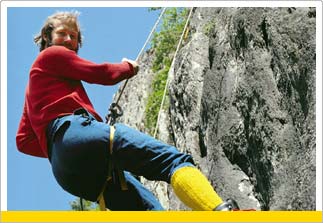 While not many dare to climb Nanda Devi or the Kanchenjunga, two of the highest peaks, the smaller ones in the Garwal Himalayas or Kulu and Lahaul in Himachal Pradesh can also be tried out for adventure.
The main mountaineering locales are in the Garhwal and Kumaon regions. Among them are the Tons-Banderpunch region, the Gangotri glacier system, Arwa glacier area, Kamet and Abi Gamin. The roadheads for these at Taluka, Gangotri, Joshimath, and Malari, can be reached in two or three days from Delhi. In Kumaon, the areas include the Kalabaland glacier system, the Panch Chulhi, Rajrambha, and Chaudhara peaks.
The peak mountaineering season begins around April and ends in November although many climbers also attempt climbing in the winter months.
Serious climbers must acquire permits after paying the necessary peak booking fees. They must also get permissions to clear the Inner Line restrictions, import of equipment, camera permits, insurance, medical attention, and evacuation procedures. The national apex mountaineering body in India is the Indian Mountaineering Foundation based in New Delhi. For mountaineering expeditions, whether Indian, foreign, or joint, permits must be applied to the Indian Mountaineering Foundation at least six months before the departure. It must be remembered that all foreign expeditions must be accompanied by an Indian liaison officer at their cost.